Libby Anderson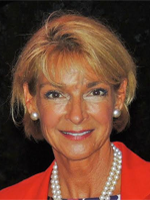 Libby Anderson M.S., SPHR is President of Human Resources Now and the Southwest Florida Employer's Association. With 25 years experience, she focuses on providing top quality Human Resource consulting and customized training and development.
Libby holds a Master's Degree in Human Resource Development and Administration from Barry University, where she is also certified as a Senior Professional in Human Resources.
As an accomplished author and keynote speaker, Libby Anderson is often sought out for Human Resource programs. She is a past President of the HR Florida State Council, the state affiliate of The Society of Human Resource Management. She also represented the Southeast Region of the United States on the Membership Advisory Committee for The Society of Human Resource Management.
Libby's mission is to provide immediate and tangible outcomes by focusing on results and relationships. She has a diverse background consulting with companies ranging from hi-tech manufacturing, healthcare and specialty retail to hospitality, public sector and non-profit entities.
Highlights of her career include working with the Ritz-Carlton Hotel Company in their effort to obtain the Malcolm Baldridge award for quality as well as working on an international level providing training for the United Nations on Human Resource topics. Libby was also selected as a recipient for the "Best of the Best" award for her work with Jacobson's Stores, Inc.
Visit LinkedIn for Libby Anderson's complete resume and references.
Brian C.G. Settle
Human Resources Consultant
Majoring in Human Resources and Business Management, Brian C.G. Settle graduated from Eastern Illinois University in Charleston, Illinois and has served as the head of human resources/chief human resources officer with four healthcare systems as well as a Human Resources Consultant during his 32 year career.
Brian served as CHRO at NCH Healthcare System in Naples, Florida for 11 years. Prior to joining NCH, Brian served in similar capacities in Elkins, West Virginia, Peoria, Illinois, and Mt. Vernon, Illinois.
Key areas of expertise include effective recruitment and selection, positive employee relations, union avoidance, staff education and development, comprehensive employee benefit designs, behavioral based wellness plans, employee health clinics, occupational health, staff and executive compensation programs, strategic planning, onsite daycare centers, volunteer programs, and overall Human Resource Operations.
Brian is a member of the Society for Human Resources Management and a past chapter president of it as well as a past chapter president of the American Society of Healthcare Human Resources Administration. He served on the Board of Directors for the Naples Area Chamber of Commerce.
Brian has facilitated discussion groups at large meetings, presented at national and local conferences, and he currently resides in Naples, Florida where he consults and leads presentations on various Human Resources issues.